Downtown Vancouver Anti-gravity Treadmill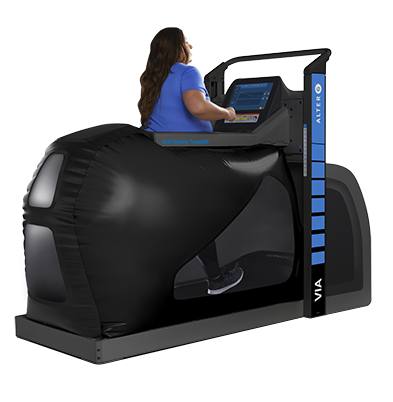 Active Rehabilitation Using an Anti-gravity Treadmill
We are one of the very few clinics in British Columbia to be able to offer our client's the use of a NASA-designed anti-gravity treadmill. This treadmill has played an instrumental role in our client care and has allowed us to get our clients moving towards their goals in a safer and more efficient manner. Below is a clip of what the treadmill looks like in action; and a list of all the ways it could help you towards your goal!
Uses for the Anti-Gravity Treadmill include:
Orthopedics
Post-Fracture

Post-Operative Rehab

ACL Reconstruction

Meniscectomies & Meniscus Repairs

Microfracture

Total Hip & Total Knee Replacement

Achilles Reconstruction

Post-Injury Rehab
Chronic Conditions
Functional Decline

Diabetes

Peripheral Artery Disease

Arthritis & Inflammatory Joint Diseases
Athletic Performance
Increase Training Volume Safely

High-Intensity Interval Training

Overspeed Training

Lateral and Retro Walking

Plyometric Drills (Skipping and Single Leg Hopping)

Active Recovery
Come in and see one of our 12 staff physios to determine if this treadmill could be right for you and your rehabilitation needs!